Fraser Engines & Transmissions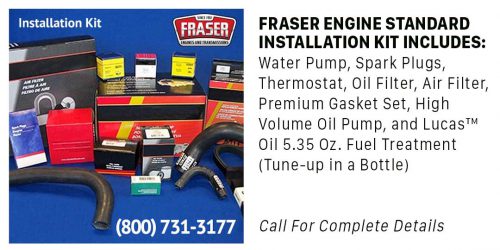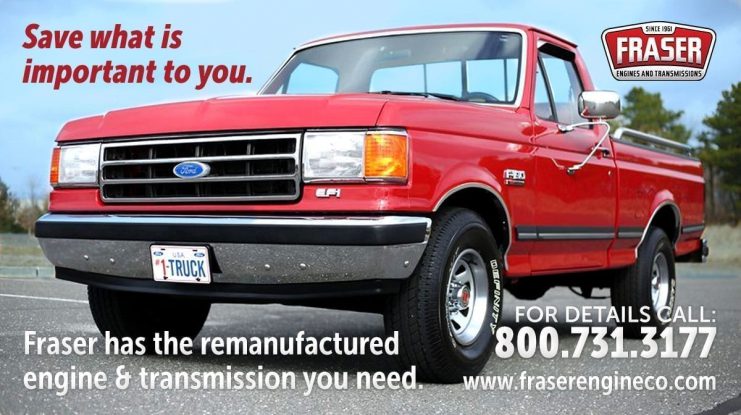 Fraser is one of the largest providers of remanufactured engines and transmissions in the United States
Since 1961, Fraser Engines and Transmissions has been providing the best replacement engines, transmissions, differentials, and transfer cases.
We MATCH or BEAT Any Competitive Pricing
We Are NOT BROKERS – We Sell What We Manufacture
We Have a 5-Star Rated Warranty Staff
27 Warehouse Locations Around the Nation
Most Engines Come with Three (3) OPTIONS
We carry remanufactured engines and transmissions for AMERICAN & IMPORTED vehicles. We also have High Performance and Marine Divisions. Ask us about our Certified Refurbished Program – one of the best in the nation.
Most engine and transmission websites out there purchase from us! SAVE YOUR MONEY – avoid the middlemen and BUY DIRECT from the manufacturer!
ASK YOUR SALES ASSOCIATE HOW YOU CAN GET $100 OFF YOUR NEXT ENGINE OR TRANSMISSION ORDER!

REMANUFACTURING
HIGHLIGHTS
These engines are remanufactured with the highest quality parts available including:
new camshaft

valve springs

lifters

pushrods

oil pump

pistons

piston rings

connecting rod bearings

main bearings

cam bearings

timing chain

timing gears

reconditioned cylinder heads and gaskets
QUALITY ASSURANCE
& CONTROL
100% visual inspection, sorting and grading of core during tear down.
100% magnaflux inspection of all blocks for cracks.
100% air gauging of all cylinder bores for diameter and roundness after final honing operation.
All crank main bearing bores and all cylinder bores measured for diameter and distortion.
Coolant passageways – All engine assemblies quantified for water jacket, head gasket, and casting leakage using pressure decay testing.
Oil passageways – All engine assemblies quantified for oil gallery, gasket, and casting leakage using pressure decay testing.
Sims Testing – All engines are cold motored and checked and measured for proper torque to turn, cylinder compression, oil flow, oil pressure as well as audibly monitored for any unusual noises. All sealed units are tested for oil and coolant leaks.
One block per engine family is laid out daily and checked for all critical and high impact characteristics as defined in our control plans. These measurements include surface finishes, surface flatness and cylindricity.
Return shipping on core included (for customers in the contiguous US only).
---
FRASER ENGINES WARRANTY INFO*
5 years/100,000 miles
5 years/Unlimited miles
3 years/100,000 miles
3 years/Unlimited miles
2 years/24,000 miles
1 year/12,000 miles 
3 months for stationary/agricultural/industrial applications
1 year for Marine applications
3 years/100,000 miles for 1/2 ton thru 3/4 ton Class B & C Motorhomes
2 years/24,000 miles for 1 ton Class B & C Motor Homes
6 months/12,000 mile (Parts Only) for Class A Motor Homes.
*Terms and Restrictions Apply. Call for Details.