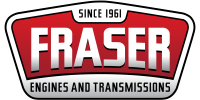 Welcome to Fraser Fast Facts • Vol. 1, Issue 25
The
BEAST
AKA The Presidential State Car -or- POTUS Limousine
The Beast is a blend of a bank-vault, the Batmobile, and every James Bond gadget ever.
First named at the Barak Obama inauguration, the presidential state car, affectionately known as The Beast, is possibly the safest vehicle ever built. It is a specially-designed security transport weighing in at over 20,000 pounds, and barely able to top 10 mpg.
Fashioned as a Cadillac XT6 sedan, which it isn't, this latest iteration of the presidential limousine was created to ensure the survival of the commander in chief in the event of attack or potential disaster while traveling on the open road.
While the specifications of the most recent Beast (2018) are classified 'top-secret' by the Secret Service Motor Pool, we can speculate features from previous vehicles and intentionally-leaked details, including that the bones of the limo are heavy-duty rugged-grade GM truck parts, including the diesel engine and transmission.
Starting with a state-of-the-art night-vision driving mode, the POTUS-mobile brings many Hollywood-style superhero vehicle tricks to life. It can billow out a smoke screen, fire tear-gas, and even lay down an spray of oil to render chase vehicles difficult to control. Even the door handles are electrified, just in case a villain gets close enough to touch the limo. (Unconfirmed rumors note the existence of grenade launchers, which we don't doubt.)
The presidential limousine purportedly is sealed against biochemical attacks. It rolls on bus-sized, Kevlar-reinforced "run-flat" tires, which keep the massive vehicle rolling, even if punctured. There is even special fire-retardant foam surrounding the gas tank.
The trunk contents would make any survivalist drool. Packed with gear from firefighting equipment and oxygen tanks, to pump-action shotguns, and the mini-fridge filled with POTUS Rh-negative blood.
As if defense isn't enough, the limo boasts extensive communications capabilities including the ability to securely transmit the codes necessary to fire nuclear weapons.
Comfortably seating seven for those long parades or trips to KFC, the Beast always includes a compliment of the most highly-trained secret service personnel on board. As well, it is surrounded by a convoy of additional disguised armored vehicles, a decoy limo, and an additional, dedicated communications-relay vehicle, nicknamed the 'roadrunner' which sports a SATCOM military satellite dome on it's roof. (No dead giveaway there.)
The POTUS state car is helmed by a team of Secret Service drivers that have undergone military police-style evasion training with guidance from GM engineers.
And it's not one, but a fleet of 12 vehicles totaling over $15 million to produce.
FRASER FAST FACTS
There is an onboard refrigerator with an ample supply of the presidents blood.

It sports aluminum, ceramic, titanium and steel armor, each thwarting a different type of threat.

The limousine walls measure at least eight inches thick.

The multilayered glass is approximately five inches thick.

Only the driver's window opens, and then only three inches. 

The doors weigh as much as those of a 757 jet.

The Beast has its own airplane, a C-17 Globemaster to haul it, and the entourage, around.

There is a heavily-armored Prevost bust knows as Ground Force One, for those VIP gatherings.

The previous version of The Beast got stuck on a small ramp as it exited the US Embassy in Ireland in 2012. (Whoops.)
If you want to create a POTUS-mobile of your own, (just forget it.) But, you can always get a world-class FRASER remanufactured engine for your parade and VIP vehicle!

Thinking about building a replica with an american-made engine? Fraser has the right engine ready for you!
CHECK OUT FRASER ENGINES NOW!