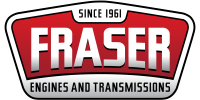 Welcome to Fraser Fast Facts • Vol. 1, Issue 17
Minivan
Must-Haves
Happy Mother's Day! – Top-Five Minivan Must-Haves for Moms
Fraser salutes all the incredible moms out there with this tribute guide to minivan bliss
First, let's get the topic of safety-features out of the way.
We all expect them, especially moms, and they have become so sophisticated, that if a minivan lacks side-curtain airbags and anti-collision brakes, you shouldn't be driving it anyway. (Note, the photos we've included are just of fun minivans, and don't correspond to the article much at all. Except for the Lexus photo at the end.)
Now, on to the top-five minivan features that appeal to moms.
#1 Adaptive Cruise Control
As mentioned above, front-end collision avoidance systems are becoming the status quo on minivans, but a new tech-wonder, adaptive cruise control, is quickly climbing the feature ladder.
If you've ever driven in slow traffic, you know how painful 'maintaining a safe distance from the car in front of you' can be. Well, now your minivan can take care of that for you. It may sound like a feature you could pass on, but once you've experienced the joy of not jamming on the breaks to avoid a five mile per hour rear-ender, you'll wonder how you ever lived without it.
#2 Side-Window Sun Shades
An often overlooked option, integrated side-window sun shades could be the most underrated feature in a minivan, yet it comes in at #2 for us. As the owners of toddlers can tell you, any trek with with a screaming youngster complaining about sun in their eyes, could be your/their last. And besides attenuating the sun, these shades also keep the car cooler and offer an extra layer of privacy.
#3 Air-Cooled Seats
Sure, heated seats are more common than ones that cool, but once you've ridden in a chilly-seat minivan, you'll kick every other vehicle to the curb. Air-cooled seats are the bee's knees when it's 90 degrees outside and your vehicle has been parked in the sun for hours. Combine this feature with a remote start package, and you may never stick to your leather seats in the Summer again.
#4 Parking Assistance System
Apparently the average American will park blocks away from their destination to avoid parallel parking. Well, now your beloved minivan can do it for you. And drivers are more adventurous than ever with that trick in their wheelhouse. Of course rear-view cameras, (another almost-standard feature nowadays,) help you not run over Big Wheels or bump into low-riders behind you, but parking assistance has become quite sophisticated, with sensors seeking open parallel-parking spots long enough for your minivan, as well as perpendicular parking assistance to help scout out a parking-lot spot of ample size.
#5 Vehicle-Wide Conversation
Stricken with stiff-neck-syndrome for having to twist around and yell across the inside of your minivan to get the headphone-wearing attention of your tween in the third row? Worry not, Toyota recently introduced a featured called Driver Easy Speak, which uses the built-in hands-free microphone inside the minivan to amplify the driver's voice to the rear of the vehicle, through the back speakers. The satisfaction of this feature, and the option of shouting "boo" when you're unruly child is dozing off, are immeasurable.
Honorable mention – On-Board Vacuum Cleaner
Any man would say this convenience is probably more hassles than its worth. Every Cheerio-incident-survivor mom KNOWS its the exact opposite. Lugging your home vacuum or shop vac out to the minivan is a soul-crushing experience unto itself.
But when you have everything needed to eradicate rogue snacks and such, right behind a secret panel in your vehicle, well the dread turns into 'something to do while the kiddos are at soccer practice'.
Noticeably-absent – Rear-Seat Entertainment, App Connectivity, Smart Dash, Etc.
These features rate right up there with the safety features at the top of the article. All minivans have options for these features, and depending on your technological-adeptness, the age of your minions, and the thickness of your wallet, virtually everything is available… for a price.
And, on that note, when your kids are old enough to chauffeur you around, it could be time for the Lexus LM Minivan…
As much as it's called a minivan, it's really a super-rich person's limo-esque vehicle that can be driven by, for instance, your adult offspring. Referred to as "opulent", the four-seat configuration provides a relaxing, recline-able environment that supports both a business power nap, or an arduous cross-town traffic jam. From Lexus' marketing materials, "The rear seats are designed for their occupants to relax in a very soothing space. The reclining angle was carefully designed for optimum relaxation, and the position of the occupant's face relative to the window. The seats rely on plush low-density urethane foam that offers ideal support with couch-like comfort." And we're not even going to mention the rear-seat entertainment center. (See photo.)  Can you say decadent?
COOL Fraser Fast Facts – Most-Requested Minivan Upgrades:
Parabolic mirror or interior camera to see what's going on in the back seat
Limo-tinted windows
Power doors on both sides, and in back, with foot-wiggling control
Stow 'n Go seating that folds seats into the floor
USB ports everywhere (It used to be cup-holders)
If you want to trick out a mom-arrific minivan of your own, bolt in a world-class FRASER remanufactured engine and get soccering!

Thinking about building a replica with an american-made engine? Fraser has the right engine ready for you!
CHECK OUT FRASER ENGINES NOW!