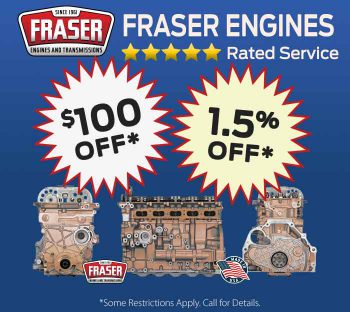 2007-2017 GM 2.4 Liter EcoTec Engines
SHIPPING INFO
SAME DAY SHIPPING
FREE for most engines.
VIN NUMBERS
Have your VIN number available for the most current & accurate quote or when placing your order.
LIFTGATE DELIVERY
Liftgate delivery is REQUIRED on all shipments over 310lbs.
IMPORTANT INFORMATION REGARDING FRASER PISTON DESIGN

FRASER PISTON INFORMATION
FRASER ENGINES replaces the OE cast aluminum pistons with upgraded aluminum pistons. 
The FRASER ENGINES piston has an anodized top land and crown, which provides a thermal barrier and reduces carbon build up. This improves performance in our 2.4 L Engines.
FRASER pistons increases oil return by 300% through the use of additional oil drain back holes, and incorporates an accumulator groove that decreases the pressure between the first and second ring.
This prevents the upper compression ring from unseating at higher RPMs. Additionally, a graphite coating prevents dry startup and piston scuffing.
The FRASER ENGINES remanufactured STANDARD GM 2.4L Ecotec engine is covered by a 3-Year/100,000-Mile nationwide, including parts and labor warranty.  Other options and full warranty disclosure is available upon request. For more information on the complete line of FRASER ENGINES remanufactured engines, go to https://fraserengineco.com or call 1.800.731.3177