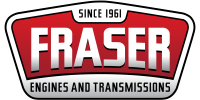 Welcome to Fraser Fast Facts • Vol. 1, Issue 30
Scooby-Doo's
Mystery Machine
Is it a Bedford CF, a Chevy, a Ford Econoline, a Dodge? Opinions vary.
"It's Mean. It's Green. It's the Mystery Machine!"
The incredible Mystery Machine, almost as much of a star in Scooby-Doo as Fred, Daphne, Velma, Shaggy and Scoob, has many faces.
Owned by Neckerchief-stylin' Fred Jones, the Mystery Machine was an ocean-blue van with orange flowers and groovy green fluid accents painted all over it. Even the wheel-covers were painted with yellow and orange flowers.
Originally thought to be a mid-600s Chevy panel van, or a Dodge A100, the "cartoon" vehicle sported a spare-tire housing on the front of the blunt-nose of the van. (This ruled out a lot of van styles.) Inside you could find various ladders, equipment for sleuthing, benches, pop-up tables for caper-planning, and a myriad of other monster-hunting tools.
Through the decades of cartoons and direct-to-video animated movies, the Mystery Machine enjoyed moderate revisions, including being turned into a monster. LOL In the 90s, though, a totally-revamped Mystery Machine appeared in the animated movie release "Scooby Doo on Zombie Land".
Thankfully, the van would transition back to the iconic look we all know and love.
For the live-action movies Scooby-Doo and Scooby-Doo – Monsters Unleashed, Freddie (Fred) Prinze Jr. presents the Mystery Machine in all it's glory as a 1972 BedfordCF van, manufactured by Vauxhall, an Australian company. How ever did the production company select an off-brand vehicle that looks so little like the original cartoon version? Well, most of the film was shot in Australia, and, well, those Vauxhalls practically fall from the eucalyptus trees there.
So, we decided to find some "Fan Replicas" to ooogle over.
Most notably is a rework of a 1967 Dodge van a car-customizer named Jerry Patrick did. It's an exact replica of the original Mystery Machine, complete with front tire compartment. It took his team 90 solid work days to complete the transformation, and the van was entirely rebuilt from the wheels up.
Another fan replica was designed around a 1968 Ford Econoline with a 302 cubic inch V-8 and a three-speed automatic transmission. This project included a tricked-out interior and a "ghost finder" dashboard. It recently sold at auction for $60,000. We assume, if the original movie vehicle, currently owned by the Volo Auto Museum, in Volo IL, ever went up for sale, it would go for closer to $100,000.
On a side-note, we feel the live-action movie production company failed miserably in portraying the Mystery Machine as it was in 50 years of cartoons, so here are a few photo of our favorite fan van. (We think it's a spot-on replica.)
FRASER FAST FACTS
The Mystery Machine had a parachute and a satellite dish
Scooby-Doo was loosely based on Abbot and Costello
Scooby-Doo holds the record for the most episodes of a cartoon comedy series
Casey Kasem voiced Shaggy from 1969 to 1997
ABC thought Scrappy Doo was a bad role model
A fan named Sharon Kay Truman decked out her 1994 Chrysler Town & Country as a Mystery Machine, and during a traffic stop, slammed on the gas and lead the cops on a high-speed chase through Redding, California. The media had a field-day commenting on how the cops were still chasing that van all over.
Thinking about building a replica with an american-made engine? Fraser has the right engine ready for you!
CHECK OUT FRASER ENGINES NOW!